OCT 2021
Well, we made it this far. I am thankful to have what I have. A place to live, good food to eat, got a few dollars in my pocket and I'm healthy enough to enjoy it all. It hasn't been easy for any of us I'm sure, but we do what we must to survive! Stand up for what you believe in. Trust that everything is working out, and will work out for your highest good! With that said, we must go onward and forward. As we do, I'll try to keep making music to inspire us all along the way :)
FEB 2020
New album is in the works for 2020. As of right now, I'm about 70% done. Also, I Recently co-wrote & performed a song with my son Kam Sparks. We will be releasing that song in spring of 2020. The song is called "Witness" so be on the look-out for that. We will also shoot a video. His album "My Testimony" is due out this summer.
NOV 2018
The new Christmas single remix is online and ready for you! We hired the "Miracle Beat Boy" to update the drums for 2018 and they sound awesome! Check it out at iTunes or wherever you get your music.
June 2018
The album Wake Up Call has been getting huge support around the world! The new music video "Brighter Day" is sitting at just over 50,000 views! There has been a lot of UK DJ support, and for that I must say thank you. I was included in the Indie Music Artist Challenge and I was honoured to be selected! Thanks to everyone for your continued support!
***********
JAN 2018
Just got news my music will be featured in a new television series called "Fifth Ward" on UMC/AMC networks.  5th Ward; is a fresh episodic series that captures the gamut of problems that plague inner city communities in an entertaining, fast paced way. Fifth Ward is a historic black neighborhood located in Houston, Texas. Airs March 2. For more info or to watch, click the link HERE 
DEC 2017
The new video for the single "Wake Up Call" has been very well received.  I've received so many kind responses, thank you so much. This song seems to have touched so many people and I am grateful for that.  The song has truly been a gift from God and I do believe Josiah's spirit was with me when I was writing it. Everything just fell into place. Folks have also been asking how we're doing, and I can say my family and I are doing well. We're good. Not great, but just ok. It's been a hard few months, but we're getting through.
Regarding the rest of the music, I have all the songs complete for the new album. Just in the process of sending them out for mastering, album graphics, and then it'll be out there for you to listen. Bye for now. Peace be with you!
NOV 2017
My new single is complete and has been released. It is part of the Kicksta Presents: R&B Fire Vol.1 compilation. We also completed production of a music video for the single. Everything went really well. The album will be available in January 2018.
OCT 2017
I was planning to release a new album this year, and I still am. However, the death of my son just over a month ago has shifted my musical focus. My world was (and still is) turned upside down. The writing process has been good therapy for me and truly helped me get through. 
I will take this opportunity to say again a huge thank you to everyone who has shown so much love to me and my family with prayers, cards, food, thoughts and words of comfort. Words cannot express my gratitude!
So, have a listen when you get a chance. Hope you like. Have a good day. Much love. God Bless!!
SEP 2016
I've been away for a little bit, but still been putting a few musical ideas together and I'm getting close to having enough for a new album. I'm recording in my own studio (Smash Track) and my buddy Chris Iannetti is handling the mix at his place over at Iannetti Recording. I'm currently working on a new album. I don't want to rush it, so it should be ready sometime in early 2017. There will be a music video along with radio and web promotion. I'll be posting YouTube audio samples of tracks from the new album on Facebook so stay tuned.
JUNE 2015
Well, been in the studio again, but this time I did something a little different. I wanted to do something a little different, but felt like bringing a little of the past into the present. So I came up with "Back To The Funk". This is a 5 song EP reminicent of the 1970's sound funk & r&b. I had fun with it, hope you can too!

April 2014
So, I've decided I'll release two new albums. One is an R&B record titled "Rhythm & Soul" and the other is a reggae EP titlted "Reggae Vibes".  My favs are "Smile" from Rhythm & Soul, and "Soon Will Come The Day" on Reggae Vibes. Check em' out & let me know what you think.

JUL 2013
Kicksta Muzik Publishing Signs Co-Publishing with Alter-K of France
Kicksta Muzik Publishing, LLC is very excited to announce that they have just signed a three year sub-publishing deal with France based Alter-k Publishing. "This opportunity will allow our music catalog to be represented across 21 countries for Film/TV Advertisements, and within all media type placements in the European markets. Our new partnership will also help expose our Songwriters and Producers to a larger audience overseas." – CEO Randy Powell

Represented territories will include: France, Belgium, Netherlands, Luxemburg, Spain, Portugal, Italy, Germany United Kingdom, Ireland, Norway, Sweden, Finland, Denmark, Poland, Israel, Switzerland, Austria, Greece, and Russia.

Alter-K is a Music Publisher, and Record Label, which also offers Music Supervision for Film/TV and Advertising agencies. Artists on the Kicksta Muzik Publishing artist roster include: Jamie Sparks (Soul/R&B), Working Class (Blues), Philippe "Trackman" Moise (Dance/Electronic), Andre Ennis (Reggae/Hip-Hop), Jericko Rose (Pop/Rock). Kicksta Muzik Publishing has been in business since 2004 and is managed by long-time friends/business partners/artists Randy Powell (Chief Executive Officer), Chris Iannetti (Chief Recording Engineer), and Jamie Sparks (President)
© 2013 Kicksta Music Group


JUL 2012
The Spike Lee movie "You're Nobody Til Somebody Kills You" featuring my song "Ain't Nothin Changed (I'm A Hustler)" was released this month July 10 on DVD (Black Noise Media / Lionsgate) so check it out.  Also released on that same day, my new reggae song "Soon Will Come The Day". 
Check it out in the MUSIC DOWNLOAD section.

June 2012
It's been a while since the last update, as usual, been busy with this, that & the other thing.  Back on track with a NEW 5 Track Reggae EP to be released Summer 2012. I've always loved reggae music, played in a number of reggae bands over the years, but never takem the time to actually make a recording. Finnally, it's going to happen!! This was made possible with help from producers Andre Ennis of Jamaica, and Randy Powell from Miami, FL.  It's gonna be a hott summer...hope y'all are ready for this

Dec 11, 2011  A new song I wrote titled "Groovin" co-written with Randy Powell will be featured in the new movie "Super Swagg" due out in 2012.  An official release date has not  been set, but I will update when I have the info.

Nov 21, 2011
Since I've taken a break from performing to work with some other artists, I've been quite busy in the studio!  A couple of the artists I'm working with are Alycia Bower and A'drian Scott.  They have a new track together which I produced called "Change".  The single is set for release early 2012 on the Kicksta Music Group record label.  You can preview the track in the Music Download section.

NOV 4, 2011
The new Spike Lee Movie "Your Nobody Til Somebody Kills You" was released in U.S. theatres today.  A track I co-wrote with Randy Powell is featured on the soundtrack.  Includes music from artists such as Snoop Dogg, Ice-T, Big Daddy Kane, Doug-E Fresh,and many other well know hip-hop artists.  See a clip of the movie on YouTube http://youtu.be/yjtGLS96eJk

OCT 14
At First Sight #4 on the charts!!
Hey, just wanted to send a quick, but big THANK YOU to everyone that voted for the new single "At First Sight - B&D feat. Jamie Sparks. The track now sits at #4 on the Unsigned Hype Top 10 Countdown at WBLK 93.7 FM. If you haven't voted or want to vote again, just click here http://unsignedhypemusic.com/vote/?sh_city=Nova+Scotia&search=SEARCH  and tell a friend, or two, or 5 ;o)

JANGO...has anyone heard of it? If not you should check it out. You can customize a radio station to play only the music you like. It's pretty cool. Get music from all of your favorite artists (Jamie Sparks is in there somewhere too) on your own personal station. Check it out www.Jango.com  

LAter...
JS

SEP 7
2010 Nomination Music Nova Scotia Producer of the Year
Just got word of this nomination and wanted to let you all now the good news!!  It really was a big suprise, and I'd like to take this time to thank everyone at Music Nova Scotia for considering me among this list of very talented folks, thanks to my manager Eirinn Fraser who was the one that actually put my name in the hat for voting (I forgot & missed the deadline, that's why it was a big suprise), and also thank all of you for your continued support!!  Gotta get back to work, there's music to be made ;o)

AUG 26
**NEW MUSIC "At First Sight" by B&D feat. Jamie Sparks**
The hottest new R&B music sensation emerging from the Halifax music scene today is the talented, charismatic & contemporary duo known simply as B&D. Also known as Brayon and Donald Riley. B&D have a new single titled "At First Sight (Can We Make Love)" featuring vocal styles of Jamie Sparks. Raised in the community of Lake Loon, right next door to Cherry Brook home of Canadian Idol star Gary Beals, and Juno Nominee Jamie Sparks. The new single is starting to heat up airwaves worldwide. If you haven't heard it yet, hear a sample at the MUSIC DOWNLOAD page and request it at your favorite radio station.

To contact B&D for booking and other info, 
go to www.BandDmusic.com   

JULY 13 - New Music
I'm just taking a break from the studio to give you a quick update! Working on a new single called "SMILE" sounding nice! Should be finished soon and on the airwaves in a short while. Check back and I'll let you know where we're at with it.  Might have a free sample for you to listen to also


JUNE 26

Nova Scotia welcomes The Queen and The Duke of Edinburgh to Halifax, Nova Scotia. On June 28 come out to the Garrison Grounds at Citadel Hill (across from CBC) in Halifax for the Official Welcome to Canada and Nova Scotia. This is the only event at which Her Majesty will deliver an address in Nova Scotia., and will feature many performances including Oh Canada performed by Jamie Sparks, Cyndi Cain, Lidsay Drummond, Novalee Buchan, Carl Thomas, Monetta James other special guests.

MAY 16
I have a new song that I co-wrote with Jensen Vaughan called "I WANNA FLY" Sunloverz Feat. Jamie Sparks remixed by Michael Mind Project. Will be available to the world in a few weeks on Lickin Records based in Germany. It's a little different from what I usually do (well...actually a lot different) but I had a lot of fun with it, and if you ever go to clubs or dancehalls, you'll be hearing this one for sure!

I mentioned this to you a while ago, but we're close to a release date and as soon as I have it, I'll let you know. If you're unfamiliar with Sunlovers or Michael Mind Project, google them. They've got some hot dance tracks and have been quite successful.

Also, that CD of mine will soon be on the way. Tracks are all mixed and will soon be off to New York for Mastering.   That's it for now, I'll be in touch soon ;o)

MAR 11
If you're a friend of mine on Facebook or Myspace, you've probably already heard I won the 2010 East Coast Music Award for R&B/Soul Single Track Recording of the Year.  We had a great time in Sydney, Nova Scotia.  The Award honestly was a complete suprise.  I had some serious competition this year, and truly was just happy with the nomination.  However, it seems I've been blessed with much more, and for that, I must say thank you!!

Moving right along, my new CD is now in the mixing stage.  Once the final touches are put on the mix, we'll narrow it down to the best 12 songs,and then it's off to New York for mastering, pressing, printing, and it's ready for you!  I am really hoping to tour a bit with this one.  The plan is to do a release party in every town we visit.  It should be a good time.  I'll let you know when we're closer to making it all happen. 

In other news, Been working on some great R&B writing projects with David Mindel, who has written for The Delfonics, Barrington Levy, also with Jensen Vaughan who is writing with superstar Dance groupSunloverz and Fentura.  Also writing with DJ Marc Mysterio on more exciting Dance projects.  They'll all be released this year so you'll get to hear them a little later on.

I'll be back soon with another update.

FEB 5
If you missed the Martin Luther King Tribute Concert, click this link http://www.cbc.ca/radio2/cod/concerts/20100116mlking  to hear it now. Listen to Jamie's rendition of the gospel favorite "Teach Me To Wait". It will air on Radio 2 Feb 11@7pm.


DEC 12
CHRISTMAS TIME is almost here!
Be sure to listen for, request your radio station to play, and download the new single
"It's Christmas Time" for the Holiday Season
available Nov 17 on iTunes http://itunes.apple.com/album/its-christmas-time-single/id339546582  
and many other online retailers worldwide.

Also here at JamieSparksMusic.com. Just go to MUSIC and click MUSIC DOWNLOAD This is the first ever commercial Jamie Sparks Christmas release. Ever! More to come. But until then, be the first to spread a little Christmas cheer by downloading the new single "It's Christmas Time"

DEC 7

2010 ECMA & Independent Music Award Nominee Jamie Sparks Releases Christmas song.
December 7, 2009/Halifax, Nova Scotia, Canada/Kicksta Music Group/Trisagon Music and Entertainment: Canadian R&B, Juno nominee, and multi-ECMA award winner Jamie Sparks officially launched Christmas on itunes November 17th, 2009 with his first ever holiday track, It's Christmas Time. The singer/songwriter will help spread some Christmas cheer across Canada with his national release and promotional tour in support of the new single. "I've been trying to get a Christmas song together for quite some time. But nothing I was doing seemed to click until two writing partners/friends of mine Chris Iannetti and Randy Powell helped me put this track together. Everything worked...it just felt right."

Jamie's single, All I Need Remix, was recently nominated for a 2010 ECMA R&B/Soul Single Track Recording of the Year. His unreleased single "Fabulous Clothes" featuring local musicians Jacques Tynes and Nadasi is currently nominated for an R&B Independent Music Award.

It doesn't stop there.

Much to the delight of his fans, Jamie Sparks will be releasing a brand new CD in the start of 2010. His upcoming release continues to have an R&B soul root, fused with some old school and hip hop with Jamie's scintillating delivery, stirring rhythms, and smooth beats. The multi-instrumentalist, producer, vocalist, and songwriter continue to forge an artistic path that caters to and captures the hearts of adoring fans. His music is filled with stories of the human experience; lust, pain, sorrow, joy, desire, and lots of love, all the emotions and elements that define our existence and the art and drama of life.

He has put in a years worth of song writing, hours of studio time, and endured intense labour to make this record a spectacular creative collaboration and his best work to date. "There were a lot of days, weeks, months, even years of work that got me to this point. But when you're doing something you love, the time really just seems to fly by."

Jamie has also been fortunate to perform vocals on several projects this past year; including the new track "Tomorrow" by Marc Mysterio featuring UK Artist and former pin up, Samantha Fox. Currently the single is charting in the European market and is set to be released by Sony in Europe on Dec 14th as the lead single on Marc's forthcoming debut album, "Redemption" (Chapter 1), which will be released world-wide in May 2010.

**Vote for Fabulous Clothes at the 2010 Independent Music Awards** just click here http://www.musiciansatlas.com/imafinalist/Default.aspx?maincat=9&yr=2010&scat=14#tp   

Myspace: http://www.myspace.com/jamiesparkskicksta  
Twitter: http://www.twitter.com/jamiesparks  
Record Label: ©Kicksta Music Group

SEP 22

Been busy since Summer rush. I have been writing with a number of great writers around the world including David Mindel who wrote for "The Delfonics" back in tha day and Mick Lee (both from the UK) currently working on projects for Interscope Records. I also wrote and was singing back-ups on some tracks with Marc Mysterio. One song in particular "Tomorrow" recorded by Smanatha Fox (maybe best known for her platinum selling hit "Touch Me") was very well received in the dance world. I will team up again with Samantha on a new track written by Marc Mysterio in the very near future. We've been putting some ideas together, laying down some tracks in the studio and things are sounding very nice. The track will be available soon, so stay tuned. As always, thanks for listening!!!

JUL 27

Halifax, July 27, 2009 /Trisagon Entertainment/ - Canadian R and B musician Jamie Sparks performed at Z103's Summer Rush concert at the Alderney Landing in Dartmouth, Nova Scotia at 4:15 pm on Saturday the 25th, along side local and international musicians; Lucius Kayne, DJ Dollar, DJ NoLuv, Bass Hunter, Girlicious, Robin S, September, Justin Bieber, Real McCoy, Creature and Akon. In 2007 Jamie performed at the Z103's Summer Rush featuring Rhianna. He considers himself fortunate to now be sharing the same stage as internationally renowned artist Akon. The Summer Rush concert created a unique opportunity for Jamie to collaborate with another Nova Scotia musician Lucius Kayne. Jamie and Lucius have worked together in the past with great success.

The single, "All I Need Remix," soared to number one on the charts and has been included on the Great Lakes Compilation Vol.1. Jamie and Lucius performed their newest single, "Comin Thru," for the first time together Summer Rush Concert as a cross over from Lucius's set to Jamie's at approximately 4:00 pm. The single, "Comin Thru," was pre-released in anticipation of the concert and was recently mastered for national release by Jay Franco at Sterling Sound in New York who has lent his technical expertise to top selling releases by a variety of artists including; Chris Brown, Diddy, Usher, and The Beastie Boys. Jamie was anxiously awaiting the finished product and is very proud that the first single from his upcoming album (release date TBA) was mastered by such a great engineer.

Jamie couldn't have received better news on the eve of the biggest Urban/R&B/Rap concert of the year on the east coast. A recent song writing collaboration with Gary Mill, Phil Ogden, and Stevie Ewing has just been signed to Big World Publishing in London, England. The single, "This Light," will be released later this year (TBA) in North America through their sub publisher, The Royalty Network, in New York City who have published Jamie Fox's, "Blame It," Beyonce's, "Satellites," Flo Rida's "Right Round, and Akon's single "Trouble").

He also collaborated with DJ Marc Mysterio (World Class Records) on three singles; "Get Up", and "Sunshine," with Jamaican singer Gary Pine who is best known for his vocals on several Bob Sinclar songs, including; "Love Generation," "Shining from Heaven," Miss Me," Give a Lil' Love," and "Sound Freedom" and he replaced Bob Marley as the lead singer of The Wailers.  It has just been released in France and will be released nationwide later this summer.

Earlier this year Jamie showed off his acting skills as "Rolls," a club owner and gang leader in the Vision TV show, Soul, staring Juno award-winning singer-songwriter Keshia Chanté and had his music featured again on the Global television show Da Kink in My Hair. He was also nominated for an Unsigned Hype Award (WBLK Radio in New York) for International Artist of the Year and performed on the Mayne Ishu track, Hit Me Back, also featuring; Jay NY (New York City), Rachl Palumbo (Buffalo), Jay L (Rochester), and Jada Evans (Hamilton), (Great lakes Compilation Vol. 2.) Currently Jamie is piecing together the last stages of his upcoming release and the newest installment into his constant growing music catalog. Join the mailing list for up to date information, news and a chance to win music, merchandise and concert tickets at http://www.trisagon.ca


For more information, bookings and interviews contact:
Trisagon Music and Entertainment
Eirinn Fraser
1-877-766-4488 X 709
Eirinn@trisagon.com

Jamie's Myspace: http://budurl.com/JamiesMySpace
Jamie's Website: http://www.jamiesparksmusic.com
NEW website and digital content coming soon!


Management: Trisagon Music and Entertainment
Record label: Kicksta Music Group
Publishing: Big World Publishing, the Royalty Network and Kicksta Music Publishing
Publicity: Trisagon Public Relations
Radio Release: Song Hut (DMDS)


May 7

Canadian R and B musician Jamie Sparks, has been nominated for his first Unsigned Hype Award for International Artist of the Year. It is the first year that 93.7 WBLK has hosted the Unsigned Hype Awards and Jamie is honored to be recognized for his music. The Unsigned Hype Awards are a celebration of the success of the independent R and B and Hip Hop artists from both the Upstate New York region and Canada along with some out of region and International artists that 93.7 WBLK support and rotate on their radio station and website site.

Jamie's song, All I Need Remix, featuring Lucius Kayne, soared to number one on the charts where it remained for 3 weeks and has been included on the Great Lakes Compilation Vol.1. This past winter Jamie travelled to New York to perform on the track, Hit Me Back, also featuring; Jay NY (New York City), Rachl Palumbo (Buffalo), Jay L (Rochester), and Jada Evans (Hamilton), who will be featured on the next installment of Great lakes Compilation Vol. 2 sponsored in part by WBLK Radio.

Jamie recently had an opportunity to show off his acting skills in the Vision TV show, Soul, staring Juno award-winning singer-songwriter Keshia Chanté. The Ottawa-born Chanté stars as Mahalia Brown, a young gospel singer on the verge of leaving behind the safety of church and family for the fast and dangerous track to pop stardom. Mahalia's story unfolds against a backdrop of violent conflict within her troubled urban neighbourhood. Jamie had a starring role in episode 2 as "Rolls," a club owner and gang leader. Jamie is also happy to announce that his music will once again be featured on the Global television show Da Kink in My Hair. Da Kink in My Hair follows the lives of a group of women who let their hair down in more ways than one at "Letty's", a vibrant and bustling hair salon in Toronto's Caribbean community.

Production on the new CD is finishing up, and a single will be released to airwaves across the nation in the coming weeks. New performance dates will follow. Stay tuned...

FEB 9

The first season of "Soul" on Vision TV will be airing Wednseday Feb 11. SOUL, a six-part series starring Juno Award-winning singer-songwriter Keshia Chanté in her first lead role, is slated to air on Wednesdays, starting Feb. 11, at 9 p.m. and 1 a.m. ET.

The series, produced for VisionTV by Halifax Film, was shot in Halifax, NS fall of 2008.

The Ottawa-born Chanté stars as Mahalia Brown, a young gospel singer on the verge of leaving behind the safety of church and family for the fast and dangerous track to pop stardom. Mahalia's story unfolds against a backdrop of violent conflict within her troubled urban neighbourhood.

Michael Beach (ER, Third Watch) guest stars, as well Jamie Sparks will star in an episode as "Rolls" a club owner and gang leader. Jamie will appear in Episode 2. Be sure to tune in!


JAN 11, 2009
HAPPY NEW YEAR!!!

2008 was great, but we're gonna shine in 2009 ;o)  Last year I was fortunate enough to have won 2 East Coast Music Awards, a Music Nova Scotia Award, and great success with my last single "All I Need Remix" featuring Lucius Kayne with close to a million plays worldwide! For that, I must give a very special thank you to my fans & supporters! You make this all possible.

What's new? Right now I'm in the studio putting the finishing touches on the new CD due out Spring 2009. Be on the look-out for my next single "Higher" featruing Adrian Bundy a.k.a. Bass a.k.a. Hollywood Jones to be released to radio nationwide. A tour is in the works so I'll be performing in your area hopefully soon.

Also...watch out for the next Great Lakes Compilation Vol.2 sposored in part by WBLK Radio New York
which will include the hot new track "Hit Me Back" featuring:

Jay NY from New York City/ Toronto
Rachel Palumbo from Buffalo NY,
Jay L from Rochester NY
Jada from Toronto
Nella from Montreal
Jay Evans from Hamilton, ON
and yours truly...
Jamie Sparks from Nova Scotia

for more info, check out www.WBLK.com  or www.UNSIGNEDHYPEMUSIC.com  
I'll update you with release dates when available.

Wishing you good fortune, love & happiness in 2009!!!
Jamie Sparks

NOV 10
Just a quick note about the Nova Scotia Music Week-end. It was a great time, lots of excellent music everywhere. Me & the band (Chris Iannetti, Pat Hayes, Paul Harris) had a great time on stage at the Award Show on Sunday night. And I was fortunate enough to take home the 2008 Award for Urban Music Artist of the Year! Crazy cool. Visit www.MusicNovaScotia.ca for details.  Thanks so much to everyone who voted and/or gave words of support. That means a lot to me...thank you!

I'll have more news for you later.
JS

OCT 27
Just an update to let you know my latest single "All I Need Remix" has been featured on the Great Lakes Mixtape Vol.1 presented by Royal Cartel Entertainment mixed by DJ Flatline hosted by WBLK 93.7 FM New York. For details go to www.UnsignedHypeMusic.com . This mixtape will no doubt be spinning at clubs and parties across the USA, Canada, and all over the world. This mixtape features talented R&B/Hip-Hop artists from from areas such as New York, Ontario, and yes, even Nova Scotia :o) For you DJ's out there, be sure & check out all the great music, including track 20 Jamie Sparks feat. Lucius Kayne "All I Need Remix"!!!

Oh yeah...this is a free download.

That's all for now, talk to you soon...

JS


SEP 29
New Interview with Isaac Davis Jr
I was fortunate enough to speak with the one and only Isaac Davis Jr. this past week.  He did an interview with me and it is posted online, just click this link http://juniorscave.com/JamieSparks.html


SEPT 24
Music Nova Scotia Award
Just a quick note to let you know I've been nominated for a Music Nova scotia Award in the category Urban Music Recording. Nova Scotia Musicweek won't be happening until early November, so if you want to attend, get your tickets now. There will be musicians from all over Nova Scotia and music will be at various venues in New Glasgow. I will also be performing at the Awards Show Gala Concert. Go to www.musicNovaScotia.ca for more info. That's it for now, thanks for listening...talk to you soon.

JS

SEPT 6
Jamie on TV
Yes, I'm gonna be in a TV show! I have a part in the new TV drama titled "Mahalia". VisionTV is set to begin shooting its first original hour-long drama series in Halifax, Nova Scotia, with Juno Award-winning singer-songwriter Keshia Chanté in the starring role.

The series, which has the working title Mahalia, tells the story of a young singer torn between different worlds. Principal photography commences on Sept. 2.

The six-part program is being produced for VisionTV by Halifax Film. You'll probably start hearing more about it closer to release date. But just in case you don't, I'll let you know when it's on :o)

Bye for now...
Jamie



AUG 2
Riverfront Jubilee Performance
Well, the Riverfront Jubilee was an awesome show. We all had a great time, and I've posted some pics taken by a couple of friends of mine, Nathalie Cormier and Tracey Lee. Anyone who missed it, hopefully we'll see you at the next one!

My new music is now available for digital download. It's The Music Reloaded EP can be purchased by going to www.myspace.com/JamieSparksKicksta  and clicking on the MyMusic Blaster icon. The EP features artists such as Hollywood Jones from Dartmouth, NS on "Higher"; C4 from Miami, FL on "Rock This City-Reggae Remix"; and Lucius Kayne on "All I Need-Remix".

That's it for now, I'll be back soon :-)

Jamie


JULY 27
As of today, not only did "All I Need-Remix" make it to number 1, this is the 2nd week!!! 

JUNE 11
Just got word... ALL I NEED-Remix has made it to THE TOP 10 COUNTDOWN LIST!!! Thanks for the votes. We're makin' it happen...don't stop now, let's keep it movin!!! Go to WBLK radio and vote http://www.unsignedhypemusic.com/vote.php.

JUNE 6
New Music Coming soon...
Yes, there will be new music available for digital download from www.JamieSparksMusic.com  straight to your mp3 player on July 1, Canada Day. With the help of the Kicksta Music Group "major players club" Randy Powell, and Chris Iannetti, I've remixed some songs from my last CD "It's The Music", added a few new tracks, and now we have a 6 song Extended Play (EP) of music titled "It's The Music - Reloaded" . The EP will feature artists such as C4 from Miami, FL on a smooth reggae remix of "Rock This City" , Hollywood Jones on the hot new track "Higher", and Lucius Kayne on the club banger "All I Need-Remix".   The entire Digital EP will be available Aug 1, 2008. 

All songs are at our online Store, in the "MyMusic Blaster" player.

Be sure to vote for the "All I Need Remix" right now at WBLK Radio, New York by clicking http://www.unsignedhypemusic.com/vote.php  

I'll have more news soon...

MAY 5
Today I had the privelidge joining Temperence Street School for music Monday.  It was a great time with great music from the band and choirs.  The talent displayed today was nothing short of exceptional.  I could clearly see these students could have a bright future in the music business.  I was given a warm welcome, and treated very well.  Some of the students even made me thank you cards, I think I got almost a hundred! So I would like to say thank you to all the schools who were at the assembly today: Temperance St. Elementary School, A.G. Baillie School and Highland Consolidated Middle School. Special thanks to Belinda Fraser for introducing me to everyone and helping to pull it all together...you guys rock!

APRIL 1
I have some new re-mixes I'm working on for you and they should be available this summer.  I'll have more info for you soon...

MAR 2
Hey Everyone, I got some great news over the weekend...wanted to share it with you!

************************************************************************************************************

We are thrilled to announce that Jamie Sparks has been selected as one of Le Chateau¹s New Canadian Emerging or Breakout Artists! Your music will be played on the airwaves in all of our 210 retail locations across Canada and the United States for the month of March 2008!

As one of Canada¹s leading fashion retailers, Le Chateau is proud if its Canadian heritage and committed to supporting the music industry in Canada, including up-and-coming talents like you.

Congratulations,
Le Chateau

FEB 10
*** WINNER OF 2 EAST COAST MUSIC AWARDS Feb 2008!!! ***
African Canadian Recording of the Year
Urban Single Track Recording of the Year 

To everyone who voted for me, or even just gave encouragement and words of support, thank you :o)

DEC 2
I'll be speaking with the one and only Victory Waters in Atlanta, GA Sunday night 8:30pm EST, 9:30 PM Atlantic Time. Go to www.VictoryWaters.com  or call in 347-996-5825 to ask me questions during the interview.

NOV 9
Hey! Hope you're getting ready for the Holiday Season!
You probably haven't seen me around for a while because I've been writing a lot of music for various TV & Film productions. Some you may not have heard of, some you will. There's a great new show I've been fortunate enough to add music to called "Da Kink In My Hair" which airs Sunday nights on Global. Click this link for more info http://www.canada.com/globaltv/globalshows/dakink/index_week5.html

Watch for Episode 7 to hear music from my new CD "It's The Music". Next month I'm heading back to New York to meet with some dudes about hooking up a few more TV/studio/wrtiting gigs. I'll be getting busier with that side of things so you may not see me on stage anywhere for the next little while, but I will be lurking around, somewhere...behind the scenes!

Thanks for listening :o)

Musically Yours,
Jamie

P.S. if you're looking for Christmas gift ideas...may I suggest...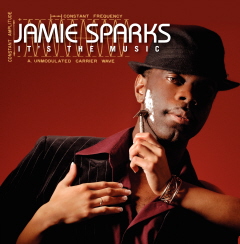 http://cdbaby.com/cd/jamiesparks5

OCT 8
We just finished the last bit of filming for the "All I Need" video.  It will incude some live performance shots, as well as some outside location stuff.  The idea of the video is to show that I currently have all I need in my life.  The song (for me) talks about being thankful for the great things you currently have in your life right now.  It has been my experience that being thankful for the good things you have, brings more things into your existence to be thankful for.  This is the path that leads to a life full of happiness, prosperity, abundance and love!

The folks at www.ScopeDigitalMedia.ca  will be doing some editing over the next few weeks.  Once the editing is done, we'll get the video online for you to see.  Special thanks to Dale Stewart and everyone at www.EasternGMC.com for being a sponsor for the event.

SEP 25
Hey everyone,

Seems like we're moving up the charts at East Coast Countdown! Currently I'm at #4 so to everyone voted for me, thank you SO MUCH!!! If you haven't already, you can go to www.EastCoastCountdown.com  and cast your vote for "All I Need".

I'll have more "chart action" for you soon...

-Jamie


AUG 30
It's been a busy summer,  though I hope you've been having a good time so far!  I've had a chance to see some on you on my travels, and I hope to see more in the months to come.  I've been busy writing for other artists, TV shows, & stuff.  The new single "ALL I NEED" has been getting lots of spins right across Canada.  In September, those of you in the United States will have a chance to hear it on your radio station.  You'll also be able to request it.

Everything is getting set up now, and I'll write back later to give you the official "ALL I NEED" launch date.  By the way, since we now have US distribution through Super D, be sure to go out and check the CD.  "It's The Music" has been a best seller at some retailers and I want to hear what you think.  Bye for now...

JULY 23
Summer Rush 2007 was a hit!  Almost 7,000 screaming fans crowded the Dartmouth waterfront and stood in the rain to see myself and all of the acts, including RIHANNA.  Although it didn't rain during my set (thank God!), we still partied all night.  I've got some pics taken by fans at the show up on the site.  Have a look.  Thanks to everyone who came out!  

July 21
The Daily News
http://www.hfxnews.ca/index.cfm?sid=46562&sc=95

The Chronicle Herald
http://thechronicleherald.ca/Search/848695.html

JUNE 15
Jamie Sparks, this Friday on East Coast
Road Trip at www.ckec.com Friday at 6pm ATL, and on podcast a few days later at www.ckec.com/eastcoast  

JUNE 13
Z103.5 First Annual Summer Rush Concert!

It's the first show of its kind for the HRM.
Z103.5's Summer Rush!
On Saturday, July 21st 2007, a unique summer spectacle hits Alderney Landing… a day jam-packed with performers bringing the beat (and the heat) to Halifax.

As the largest consecutive event of its kind, Summer Rush in Toronto has sold out every year. In its 14 year history it has drawn more than 160,000 people where they have witnessed some of the biggest acts in the world!

This year we are bringing the excitement to HRM.
The Dartmouth waterfront will be jamming with performances by...

RIHANNA
BELLY
BENASSI BROTHERS featuring SANDY
ELISE ESTRADA
JAMIE SPARKS
REEL 2 REEL featuring MAD STUNTMAN
DJ NOLUV

Doors open at 3pm
Show starts at 4pm

Tickets go on sale at 10am, Thursday, June 14th

Early bird (June 14 - June 23)
$25.00 + tax and service fees

Advance (June 23 - July 20)
$30.00 + tax and service fees

Available at all Ticketpro locations
-Alderney Landing (Dartmouth Waterfront)
-The Halifax Forum
-United Bookstore
-Greenlyph Computers
or
Online... www.ticketpro.ca
Phone... 1-888-311-9090

* Licensed VIP section for those 19+.

The Z103.5 First Annual Summer Rush Concert is sponsored by …

Stonehaven Restaurant
Supplement King
Centre of Arts and Technology
Naughty by Nature

Z103.5 The Beat of Halifax
(902) 429-1035

* This is a general admission event, first come first served.
Rain or shine.
All ages, ID required to enter licensed area.

MAY 29
Well, the CD is out. Party was a hit. New pics in the Photos Section from the release party!

MAY 25
I'm having a CD release party and you're invited!  It will be held at Club Rain on Argyle Street in Halifax.  This is my first full length CD in 3 years.  CD's will be on sale for $15.  After the event, they'll be at retail stores around the country also for sale at CD Baby.com
 
The new cd "IT'S THE MUSIC" includes the hit singles "All I Need" and "If You Were".  I'll be doing a live performance, so come and check it out. The release party is Sponsored by Z-103.5 FM and Kicksta Music Group featuring one of the hottest DJ's in Halifax R$ $mooth...you won't want to miss it. 




APR 10
APRIL 9 & 15

Yes!! The 20th Episode of DIRT has been completed!! Join Dave and
Friends
for a Birthday Rib-B-Q Extravaganza!! In this show we're cooking it up
with:

Sinner: Diary of Evil
Leah DeVon: Waiting for You
Marcus G: Canadian Dream
Jamie Sparks: Unforgettable
Norine Braun: Hanna to Hollywood
Aldo Rox: Like an Angel

Oh yeah!! It's gonna be a good one! So Tune in across Canada on
StarChoice
Satellite (ch.323) and Express-Vu (ch.258) Satellite Networks on
Sundays @
Midnight Pacific!

Rock On!
Dave Lamoureux
Executive Producer
DIRT

MAR 31
Hey Y'all...most of you in Canada and some in the US have probably heard "All I Need" on your local radio station. If not, e-mail or call 'em up & request. All of you that did request, THANK YOU!!!

My new single "If You Were" should be hitting the airwaves, and hopefully the video next month.

ALSO... the NEW CD WILL BE RELEASED FRIDAY MAY 25. It will available in stores and online. We'll be having a CD release party at Rain in Halifax, Nova Scotia. Just bring yourself (and a few bucks for a CD) and have a good time.

Those of you not in Halifax, not to worry. The band & I will be on the road to tour Canada, US, and the UK shortly after the release so I will be in your town. Check my site for dates. If your town isn't on it, check with the club or school you go to. If they can't help you, let me know, and I'll get my agent to hook it up.

That's it for now. I'll send you a little reminder note a little closer to the date.

As always, I have to say thank you so much for the e-mails, comments, all the love & support you've been showing me. It's a tough business sometimes, but hearing from you makes it all worth while. I truly appreciate it!!!!

Wishing you peace, happiness & much luv
-JS

MAR 19
My new single "All I Need" has been steadily gaining adds at Contemporary Hit Radio (CHR) and Hot Adult Contemporary (HOT AC) radio right across the country.  Many of these Urban & Pop stations have been very supportive, and for that I say Thank you!

While "All I Need" is still spinning at CHR and HOT AC, it along with the new single "If You Were" are being serviced nationally to college radio this week.  "If You Were" will also be released to CHR & HOT AC shortly after the CD Release tentatively scheduled for a late April.  More details of the release will follow in another news update.  

If you're not hearing the songs "All I Need" or "If You Were" on your local radio station, call or e-mail to request it.  If you don't know how to reach them, send me an e-mail and I'll get their contact information for you.

MAR 4
I had a chat with writer Carla Gillis.  Click the link & find out what we talked about... 
http://public.aliant.net/FeatureArticle.jsp?language=en&banner=true&FeatureID=15110272&chname=Entertainment

FEB 22
I'm now here at Smash Track Recording Studio putting the finishing touches on the mixes for the new CD.  There will be a new single released nationally to radio in April along with the CD.  The title is "It's The Music".  The title fits because for me it's always been about the music.  That's what hits me first, that's what moves me, and that's what the CD is about! 

FEB 18
2007 East Coast Music Award WINNER!
-Urban Single Track Recording of the Year (All I Need)
-African Canadian Recording of the Year (Scotia Mix Vol.1)

"Thanks so much to everyone who gave support & well wishes!" 

Hear me on CBC Radio http://radio3.cbc.ca/bands/JAMIE-SPARKS